BH RX1 - 2012 $0.00
Item # BEH0005
Description
The BH RX1 takes all the lessons that BH has learned from the production of their road racing bicycles and crosses them with some off-road DNA to create a race machine worthy of World Cup cyclocross competition. It has a few key details like a top tube with a flattened underside and cables that route internally to make it more comfortable to shoulder the bike and tackle steep run-ups. After all, the steeplechase of cycling is plenty arduous; no need to cause yourself any more pain than necessary. The attention to detail doesn't stop at high performance. BH includes cable tension adjusters for these internally routed cables, and this makes maintenance easy and convenient.
The RX1 frame and fork are both constructed as monocoque structures. This means that they're each laid up in the mold as a one-piece unit. This process ensures uniformity in the tubes and through the intersections, and it allows their designers the freedom to create whatever tube shapes they like, such as the easy-to-shoulder top tube. The internal routing eliminates any potential for abrasion or a pulled cable and the resultant mis-shift as you remount the bike and pedal away.
Like the G5 road racer, the RX1 'cross frame uses a Pressfit 30 bottom bracket. This bottom bracket standard uses a full carbon shell that has a 68mm width and a 46mm inside diameter. The large diameter shell allows the intersection of a huge down tube that adds stiffness to the bottom bracket area so that it responds instantaneously to every stomp of the pedals. Another benefit of the Pressfit 30 system is that you'll enjoy greater heel and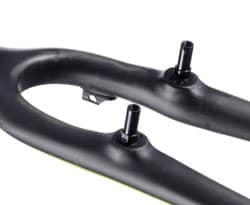 ankle clearance if you opt for a BB30 crankset, not to mention the added torsional stiffness of the 30mm crank spindle.
The RX1 relies on time-honored and proven cantilever style brakes, with mounts on the seatstays and fork legs. Both locations feature studs with multiple holes for the capture of the torsion spring tab. This means you'll have more adjustability for the spring tension. The included FSA headset has a built-in hanger and stop for the front brake cable. It has an adjustable barrel, just like the front derailleur and rear brake cable stops.
The full carbon frameset has the ability to resist deflection and handle the toughest cyclocross courses and stand up to the strongest riders. That said, it displays an almost gentle ability to soften the abuses of broken terrain. This is what makes it a fantastic all-day, get lost on dirt roads bike as well as a race-day beast.
The BH RX1 is available in Green and Red. It comes in four sizes -- 52, 54, 56, and 57cm. The frameset includes a full-carbon fork with a 1-1/8 - 1.5in tapered carbon steerer. The integrated headset bearings are also included along with an FSA SL-K carbon fiber seatpost. You'lll need a 34.9mm bottom pull, clamp-on front derailleur to complete the bike build.

Geometry chart
BH
RX1

Seat Tube

(c-t)

Effective Top Tube

(eTT)

Stack

(S)

Reach

(R)

Head Tube

(HT)

Head Tube Angle

(HTo)

Seat Tube Angle

(STo)

Bottom Bracket Drop

(BBD)

Chainstay

(CS)

52
51cm
51.5cm
52.83cm
36.71cm
12cm
71.2o
74.4o
42.5cm
6cm
54
54cm
53.5cm
54.47cm
37.76cm
13.3cm
72.3o
74o
42.5cm
6cm
56
57cm
55.4cm
55.92cm
39.18cm
14.7cm
72.5o
73.5o
42.5cm
6cm
57
59cm
56.8cm
57.44cm
39.22cm
16.2cm
72.8o
73o
42.5cm
6cm
Compiling options for this bike.
It'll be just a moment...