Out of Stock
Item # AVI0008
Don't worry though, we have a lot more Mountain Bike Brakes in stock than that.
Avid XX Disc Brake $0.00
Item # AVI0008
Description
We've heard the Avid XX Disc Brake compared to the Avid (owned by SRAM) Elixir CR and the Avid Juicy Ultimate. We understand the comparison, and looking at it we can see where they've taken from both as well as established Avid features like Power Reserve (lever pivot is close to bars, making lever pull easy and natural) and TaperBore Technology (the reservoir is integrated into the piston assembly which not only saves weight but gives great modulation and feel), and ambidextrous levers (no right or left lever). But XX goes a step beyond -- it's a super lightweight brake that takes the best Avid technologies and moves them one step further.
The lever is based on the Elixir CR design. It's a forged magnesium lever body with carbon fiber lever blade. Just to show you a bit of the weight savings, the Juicy Ultimate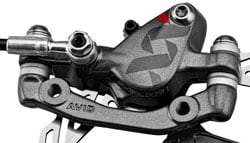 has an 11g lever blade; XX has an 8g lever blade. Reach adjustment, to save a little weight here, now needs a tool. Also saving weight is the slim one-bolt U-clamp that secures the lever to the bars. The U-clamp can be swapped out for SRAM's Matchmaker clamp, so you can attach shift levers and suspension remote to the same clamp.
The caliper is made from two pieces of forged magnesium, where the bolts holding the caliper together work as rebar in concrete -- stiffening agents. There is an external banjo for further stiffening of the brake action. And there is still a manual contact adjust knob. Because of the extreme light weight calipers, organic-compound pads are standard and sintered are not recommended. Metallic pads transfer too much heat. The organic pads are the same as the Elixir's organic pads.
The price reflects calipers, rotors, hoses, and fluid for one wheel.There are three rotor sizes available. 140mm (for the rear brake only), 160 and 185mm. All three rotors are stainless steel rotors on aluminum carriers for both ideal heat dissipation and light weight. All bolts use Torx T25 heads. The brake fluid is DOT 5.1.
Please note: almost all hydraulic brake lines need to be cut to size before a bike is properly shod with hydraulic disc brakes. You'll need a quality cable-cutter like the Park CN-10 and a spoke to first cut and then de-crimp the housing.
The claimed weight of a Avid XX Disc Brake with Direct Mounting and a 160mm rotor is 288g.
Click here to save when you purchase an XX build kit.
Tech Specs
Lever:
(body) forged magnesium, (lever blade) carbon fiber
Lever Adjustability:
reach (tool free)
Caliper:
2-piece forged magnesium
Caliper Adjustability:
adjustable banjo
Rotor Size:
140 mm, 160 mm, 185 mm
Recommended Use:
XC racing, enduro
Reviews & Community
What do you think of the
Avid
XX Disc Brake
? Share a...