Assos SS.13 Jersey - Short-Sleeve - Men's $0.00
Item #

ASS0047
Description
Not unlike life itself, few indisputable truths exist in the world of cycling. The good news, though, is that those few truths do indeed exist, and one of them is this: Assos is singly responsible for the existence of the high end cycling apparel market, and without their creativity and fashion sense we'd probably all be riding in Pearl Izumi's rough-hewn 6-panel Ultrasensor shorts and that Primal Wear jersey with the frog on it. Thanks to Assos, though, not only can we ride in extraordinary comfort (in any weather, on any length ride), but we can stop mid-ride at the coffee shop and hold our heads high as we click-clack past the table full of feverishly-gossiping, Macchiato-sipping, Sequoia-driving, "maybe I'll take a Yoga class"-thinking soccer moms who, in fact, look better after 2 kids at age 35 than they did in college. Thank you Assos. You let us feel like men.
As Assos has grown and refined their clothing line in the last 5 years, they've been methodical about their work. 2002 and 2003 were spent perfecting the bib short with their S2 and the FI.13 models. 2004 and 2005 were spent creating a winter clothing line so technically advanced, versatile, and jaw-droppingly stylish that it probably puts the entire ski industry (not just the bike industry) to shame. And 2006 and 2007 have proven to be the years of the short sleeve jersey. In 2006 Assos took bold steps forward in fashion with the introduction of their FI.Equipe jersey. And 2007 brought the metamorphosis of the Uni into the new ss.Uno, and a new jersey positioned as high on Assos' ultra-high end as the S2 is to their bib short line: the SS.13.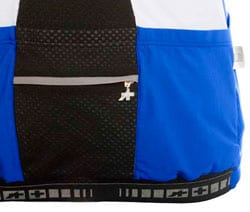 The heart and soul of the SS.13 is Assos' use of "Stretch-Stop Panel Framing" where key segments of the jersey are purposely made of inelastic material. Through its inelasticity, the jersey gets much-needed stability on your body. Throughout the middle of the back a breathable "3D Sensomesh" panel serves to support the back of the jersey and prevents it from stretching vertically. Think of this panel as a frame or a support. It's a vital component of the SS.13 to prevent the jersey as a whole from sagging. It's more comfortable, it looks like a million bucks, and it makes inserting/removing gear from your pockets a whole lot easier. Two other details on the SS.13 include the fact that its collar is lower than the SS.Uno, and the elastic around the arms is shorter in height.
Keep in mind that the SS.13 is made in Assos' AEPD II design, which means one basic thing: When you stand up in the ss.13, it pulls upward at your belly button and the shoulders will feel tight. But the idea is this: the combination of Assos' new material and their riding-specific cut is that the jersey will "click" into place on your torso when you reach for your bars. Don't judge the jersey by trying it on in your bedroom -- judge it by how it feels when you ride.
One other change to the SS.13 is the pocket design. The pockets are made from a meshy spandex to make it easier to get your hands into them, while compressing the contents with some added stability so they won't swim all over your body as you ride. And the pockets are located more centrally on the jersey so there's an even less likelihood of having your phone/keys/spare tube slide around annoyingly to the side of your waist.
The Assos SS.13 Short Sleeve Jersey comes in Black, Blue, Red, and White and has a full zipper, a zippered "safety" pocket for keys or your iPod, three standard rear pockets, and reflective front and rear panels. It's available in six sizes from Small-TIR. (Remember, in the Assos world, XLG=XXL, and TIR=XXXL.)
Please Note: The SS.13 is built with a slimmer fit than other Assos jerseys. You'll find that the proper-fitting SS.13 will be one size larger than your size in the SS.Uno, National Federation, and Six Day jerseys.
Posted on
assos jersey 13
Familiarity:

I've put it through the wringer
Form fitted jersey, feels and looks great, medium fits tight (5'5".=.65kg) so be prepared to upsize minmimal x 1. But for me this jersey serves as a reminder and motivates me to ride, eat right and attempt to get fitter. It is so comfortable to wear, compared to other jerseys, Swiss do it right. Colors are bright and cheerful. When in riding position this jersey truly is at its best. Pocket locations are optimal when need access to your supplements gels bars phone etc. during ride. Be careful with the small, but my favorite side pockets, they are shallower, lost my cellphone during curvaceous descent.
Posted on
Great jersey but beware of sizing!!
Familiarity:

I've put it through the wringer
I am 5'7", 150 lbs, "american" sized (muscled, not euro-skinny but no one would mistake me for a gym rat). I am like the definition of medium. In this jersey, I'm an XL. Crazy.

That's the only bad part.

Good part:

1) form fitting but not overly tight arms

2) 5 pockets plus an additional zippered one. awesome.

3) the way the 3 middle pockets don't bounce around even when pretty loaded up.

Overall, a kick-butt jersey (esp on sale, like all Assos). I don't deserve it but like it anyway!