Assos LL.fugu s5 Cycling Bib Tight - Men's $0.00
Item #

ASS0031
Description
When you own a pair of Assos LL.fugu s5 Bib Tights, you'll be praying for cold weather. You'll inhabit the role of club mate who shows up for sub-freezing rides with a big smile on your face. Your friends might be a bit peeved by your good cheer, but you'll be the one ticking off the miles, keeping the pace, and generally enjoying a good workout when everyone else is cooped up inside.
The reason is simple. These are Assos' most technologically-advanced bib tights to date. They look like a Farmer John wetsuit and will keep you warm and comfortable on the coldest days thanks to all the design details. As usual, Assos marshals a symphony of fabrics designed to keep you warm and comfortable, while you barely notice your clothing other than how unrestricted you feel. Assos believes the genius of these bib tights is in the upper-body.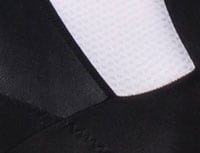 They call it their torsoCapsule. It's a mix of RXQ fabric for warmth (the white stuff) and Lycra (the black stuff). All of this counts for a layer around your torso so you don't need to add another sleeveless base layer under your jacket. And for comfort's sake, the zipper works both ways, so you won't need to completely undress when heeding the call of nature.
Working downward, they've placed a strataGonUltra airBlock insert over your private parts. More than a fig leaf, it keeps the cold winds from cooling you down there. We've found that it directly adds comfort, but reduces the need for repeated bladder evacuation mid-ride. StrataGon means its windproof. Ultra means heavy-duty, but also a "flexible membrane" which allows sweat vapor to escape when the membrane is warm and closes down when the membrane is cold.
The legs starting at the hip flexors and glutes are kept warm by Assos' TwinDeck system. They use strataGonMedium airBlock on the outside, with a low-volume free moving next-to-skin layer. Medium strataGon is thinner, stretchier, and more flexible than the Ultra, making it right for shaping around legs and knees. The legs are pre-shaped to make sure the fit is Assos close. It also wraps around your hips to your glutes, with a thinner panel joining the left and right side for better stretch and some venting. The strataGonMedium extends down the legs to about three inches from the top of the stirrup covering the front and outside of each leg, while a thinner, stretchier, less windproof material runs down the inner thigh for a perfect fit and to allow some venting.
As you can imagine, fit is important with these tights. With their AEPD, Advanced Ergonomic Panel Design, they will feel tight as you pull them on. And for the first time you stand up in them, they should feel as if you're too tall for the bibs. Lean forward and grab some imaginary handlebars, and everything should feel just right. In terms of sizing, stick with your Assos bib shorts size -- the torso portion of these tights is filled in, but still extremely elastic.
The Assos LL.fugu s5 Bib Tights come with the s5 Mille chamois, the same as you'll find in the s5 Mille bibs -- a curved, textured, stretch pad with high-density sections under your sit-bones. The tights come in Black and sizes run from Small to TIR.
Riding outdoors in Indiana in January
Familiarity:

I've put it through the wringer
Bought one of these last winter. Before never felt comfortable under 35-40F. In these with fugu booties and jacket no problem even below freezing. Fit is excellent, materials are comfortable with no bulky or restrictive feel. Expensive, but worth it.