Out of Stock
Item # ASS0066
2012 This model is no longer in stock.
Don't worry though, we have a lot more Men's Jackets in stock than that.
Assos iJ.tiburu.4 Jacket - Men's $0.00
Item # ASS0066
Our first full-zip long-sleeve jersey was made by Assos. It was a closeout, and we felt pretty savvy for the purchase. But then the top lasted and lasted; it was our go-to long sleeve jersey for a decade, and a few years in, we realized that the jersey would've been a bargain at any price. That old jersey was a direct ancestor of this iJ.tiburu.4 Jacket.
In Switzerland, the tiburu is a spring and fall jacket; they call it climaRange 4. Depending on where you live here in the United States, it's a jacket that works from early fall through winter and into late spring. IJ stands for Insulator Jacket, meaning the material is fleecy and warm on the inside, a heavy jersey if you will.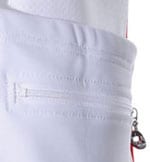 Because you have to strike a balance between being cool and hot, the jersey uses RX fabric for the front panels -- both the chest and the parts of the arms facing the wind. It also uses lighter RXQ for the back and the inside of the arms. This mix helps protect the body from the wind while allowing some heat to escape where the wind can't get to you.
The iJ.tiburu.4 also takes advantage of a technology we've only seen thus far in short sleeve jerseys -- a rear stabilizer system, which is highlighted by the gripper across the back under the pockets. This means that the pockets won't bounce when they're full, a nice feature and one we're hoping to see more and more often in the future.
Also standard fare here are the three rear pockets with one extra zippered pocket on the right side for valuables. There are reflective tabs sewn on the seam joining the pockets to the top. The Assos iJ.tiburu.4 Jacket comes in Black, Red, and White, with Assos racing stripes. Sizes run from Small to TIR.
What community has to say
What do you think of the
Assos
iJ.tiburu.4 Jacket - Men's
? Share a...
Amazing
Member since
Posted on
Familiarity:

I've put it through the wringer
This is one of the best things I've ever purchased. In my opinion, there is nothing better for rides in intermediate temperatures. This thing looks so good... it's so aggressive and so unique! It is made of the best materials, fits amazingly well, is soft, comfortable and very, very warm! Another masterpiece of styling, functionality and overall quality by Assos.

This jersey is very form-fitting, yet still manages to feel fluid, light and soft, all while providing exceptional warmth in intermediate temperatures. You can even fit one of the Assos base layers underneath it, for those fall days that are pretty cold, but not quite cold enough for the full winter jacket. Most of my rides are between 50-70 miles and I ride very hard. This has exceeded my expectations every time when the temperatures were in the 40s and 50s. I look forward to cooler temperatures just so I can wear this. Like other Assos tops, the area around the chest feels tight unless you are in the riding position.

I recommend this to people who have good proportions, like to look totally badass and unique, like riding fast, are not snobs, but still prefer to spend money on high-quality garments and take good care of them.

The only little thing I can nitpick is that the back of the jacket is white, even on the red version.