Assos iJ.haBu.5 Jacket - Men's $0.00
Item #

ASS0067
Description
There's a breaking point when the weather gets cold enough that thermal jerseys alone don't provide enough warmth. The Assos IJ Habu Jacket is designed to take you beyond that barrier. It wears with the weight & feel of a jersey and is ideally used over one of Assos' three different Interactive Base Layers to vary the total effect of its warmth. The critical design detail that gives the IJ Habu Jacket the potential to keep you warm into seriously chilly weather is the Stratagone windproof material that Assos places across the front, down the arms, and over the shoulders.
The rest of the jacket is made with Roubaix Q fabric. It's warm and fuzzy, and it's a lighter weight version of their typical Roubaix material. The difference is the waffle pattern of its fleecy backside.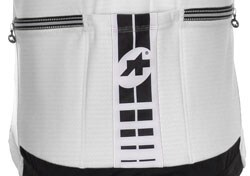 This reduces the weight of the fabric and increases its compressibility without affecting the insulative qualities. As a result, the Habu Jacket can still be crammed into a jersey pocket should you get lucky and get some afternoon sunshine and warm roads.
The Stratagone windproof material has a generous four-way stretch to accommodate your layers. On the inside, it has a light mesh to facilitate moisture movement so you stay as dry as possible. In high wear areas, like over the spine and inside the windproof collar, Assos laminates another lightweight mesh to protect the base materials from abrasion and in the case of the collar, to keep you comfortable.
The Assos IJ Habu Jacket is available in Black, Red, and White and it comes in six sizes -- Small through TIR. On the back, you'll find three standard sized pockets. The outer two have zippers to keep your stuff secure, a feature you'll appreciate if you've ever stashed your phone in a jacket pocket only to take it off when you got too warm and been unlucky enough to hear your phone slide out of its berth as you pulled your arms free. It also has reflective elements along each zipper on the back and up the front of the jacket.