Arundel Tubi Seatbag $19.95
Item # ARU0012
Description
Tubi for tubies.
The Tubi seat bag displays both the practical and whimsical side of Arundel. It is named for a cat, but it is also sized for a single tubular tire. While it may be PRO-like to ride with a tubular tire mounted naked under your saddle, with nothing but an Alfredo Binda toe strap holding it in place, this method has drawbacks. Unless you're using a high TPI tubular as a spare, it won't fold easily, leaving an awkward mess that doesn't easily secure. And if you've got a high TPI tubular back there, the toe strap could wear the sidewalls rather easily.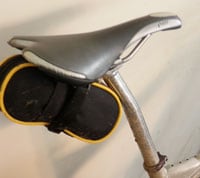 Enter the Tubi. A Cordura bag designed to fit that tire, it has just enough room for a sew-up, a CO2 cartridge or two and an inflator. There are two small side pockets for loose tools and cash. A single strap in the middle of the bag goes around your seat rails and then the bag. There's a genuine leather tab on the back so the seatpost won't wear through the bag.
Expensive tubulars usually fit better than cheapies as the casings are typically thinner and more flexible, so they fold smaller. Start by removing the excess air from the tire. Then, you can start folding at the valve stem with the tire around four fingers of your hand and go from there, wrapping tightly the whole way. The Arundel Tubi can also be used for people who ride clinchers and either like carrying a folding tire in their bag or just like having extra tubes and tools along for the ride.
The Tubi is a great option, too, if you ride a mountain bike and you aren't keen on wearing a pack. You can fit a couple of fat MTB tubes, some CO2, and a multitool with space to spare. Be well-prepared sans back sweat!
The Arundel Tubi has 28 cubic inches of internal volume. The dimensions are 7"x4"x1". Claimed weight is 82g.
Tech Specs
Dimensions:
18 x 9.5 x 4.5
Reviews & Community
What do you think of the
Arundel
Tubi Seatbag
? Share a...
just awesome
Member since
Posted on
Familiarity:

I've put it through the wringer
i also went through many different bags. I hate carrying too much in my jersey, but also my legs always rubbed any other type of saddle bag except for the thin arrundels, like this one. You can fit a ton in this... i have a tube, 2 CO2s, a mini-pump (lezyne), patch kit, crank tool and mini tool.
Lots of room
Member since
Posted on
Familiarity:

I've put it through the wringer
here's what I carry using this bag. I ride clincher. 2- 80mm Tubes, 4- co2 cylinders, tire boot, 2- park tool tire levers, nano- inflator, and a bontrager multi-tool. The leather tab is great, keeps the bag from wearing through. Also, the way the strap attaches the bag, it prevents the rough velcro from tearing up you nice kit. Lots of bags cause premature wear on cycling shorts. This bag eliminates that problem.
Love this bag!
Member since
Posted on
Gender:

Male

Familiarity:

I've put it through the wringer
I ride clinchers, but chose the Tubi over the Dual because I use a crank Bros Speed Lever as my tire iron. The extra length helps allows the speed lever to fit inside. I'm kind of a bag-nut and have a milk crate in my garage full of bags I tried and didn't like. The Arundel solved that. The bag is extremely well-made, everything fits that I need for a ride with room to spare. What more does a guy need! Great product! I never go on a road ride without it.